UFP Award 2017
[Hong Kong Undergraduate Financial Planners of the Year Award 2017]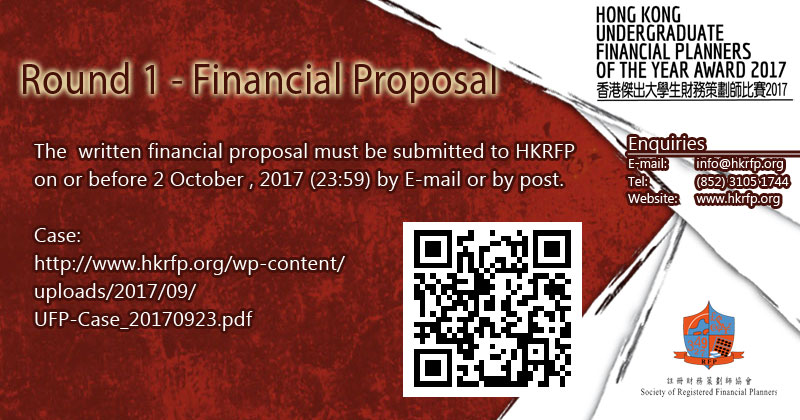 UFP Award Case:
http://www.hkrfp.org/wp-content/uploads/2017/09/UFP-Case_20170923.pdf
Financial Proposal
※Your team's written financial proposal must be submitted to HKRFP on or before 2 October, 2017 (23:59)
by E-mail (E-mail Address: info@hkrfp.org, please send the email by leader's E-mail for record) or
by post to HKRFP (Address: "Room 1404, Blissful Building, 243-7 Des Voeux Road, Central, HK")
Please state "Hong Kong Undergraduate Financial Planners of the Year Award 2017" with your team name on the envelope.
※Acknowledgment will be sent via email within two working days after application and proposal are received. The organizer will notify all correspondence to participants by email matters.
Who we are
Society of Registered Financial Planners ("HKRFP") is established to promote professionalism in financial planning. HKRFP is a self-regulatory and not-for-profit organization.
Mission
We are committed to:
1. Professional excellence and upgrading of public interest;
2. Nurture professionalism among financial planners, and raise public awareness on values of financial planning services, and
3. Ensure the quality, integrity, objectivity, diligence, due care and attention of services are adequately provided by financial planning professionals.