UFP Award 2017
[Final Round]
Invitation to Attend
"Hong Kong Undergraduate Financial Planners of the Year Award 2017" Final Round and Award Presentation Ceremony
香港傑出大學生財務策劃師比賽2017(決賽)暨頒獎典禮
Date: 18 November, 2017 (Saturday)
Time: 10:30 a.m. to 2:00 p.m.
Venue: Theatre 7F(Room 701), Hong Kong Federation of Youth Groups Building, 21 Pak Fuk Road, North Point, Hong Kong
Online registration: https://goo.gl/forms/CtI7cAT5n8P3FIlv1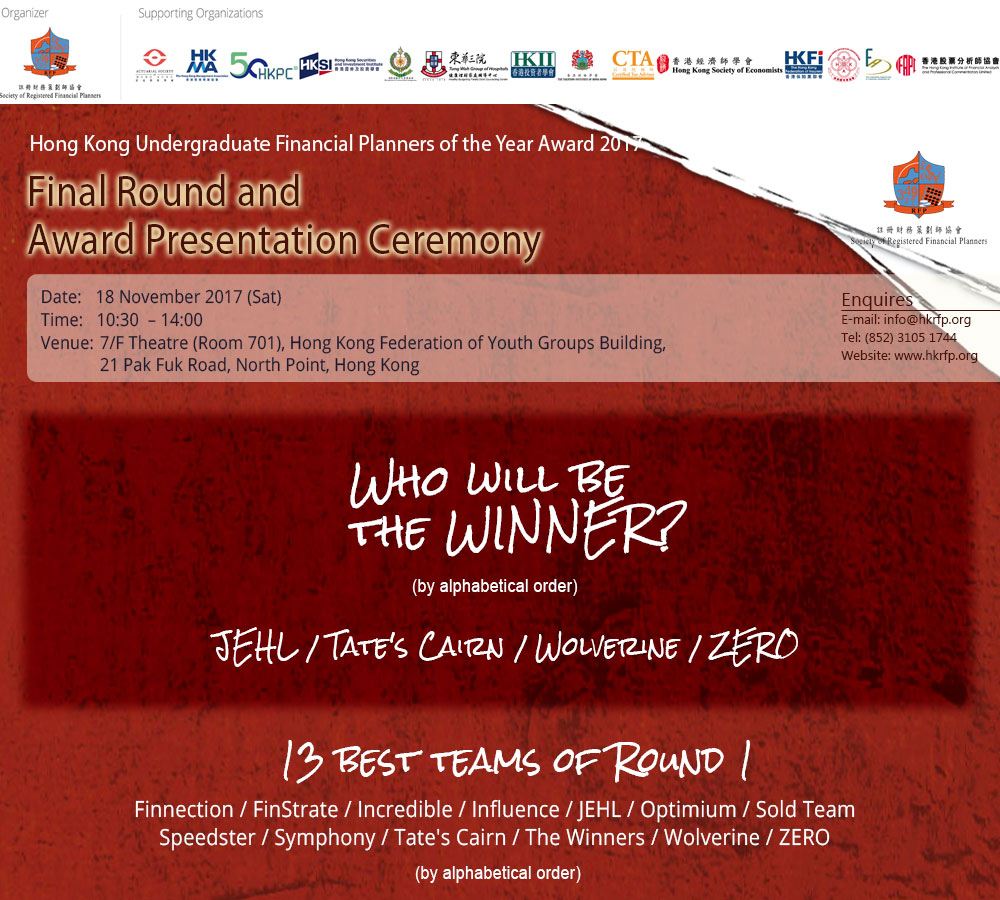 "Hong Kong Undergraduate Financial Planners of the Year Award 2017" (the "Award") is coming to final stage. The Award Presentation Ceremony is held in conjunction with the final round on 18 November, 2017. The competition is held in the period August to November 2017 with aims to raise the awareness of financial planning among undergraduate students and equip them with adequate preparation for a career in financial planning. The HKRFP sincerely invites you to join us in celebrating the Award and acknowledge the achievements of 4 outstanding teams in final round.
Each member of finalist team will be asked to make a 10 minutes presentation of topic:
" How to beat or cope with ChatBot (Robots that answer and response like human but with a super brain) in the AI transformation in Financial Planning Industry.

Many telephone operations are replaced by chatbot these days. So starting are the legal professions, at least in the USA, and many white collar jobs. Professionals in the financial sector are shaking. AI and robots are coming. What is it in us that they cannot do or think better? Especially in that AI don't lie, they are patient, and they can prepare a tailor make portfolio for clients in seconds. As a new era financial planner, what will you plan to govern AI or override chatbots?"
in English in front of a panel of judges followed by 10 minutes of questions and thereafter answers from the judges.
Please reserve your seat by the online registration: https://goo.gl/forms/CtI7cAT5n8P3FIlv1 on or before 16 November, 2017 (Thursday).
Who we are
Society of Registered Financial Planners ("HKRFP") is established to promote professionalism in financial planning. HKRFP is a self-regulatory and not-for-profit organization.
Mission
We are committed to:
1. Professional excellence and upgrading of public interest;
2. Nurture professionalism among financial planners, and raise public awareness on values of financial planning services, and
3. Ensure the quality, integrity, objectivity, diligence, due care and attention of services are adequately provided by financial planning professionals.