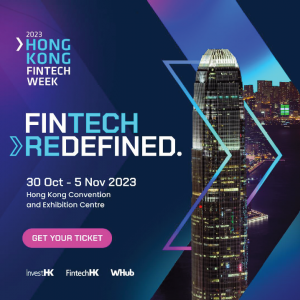 We are proud to be a supporting organisation for @Hong Kong FinTech Week 2023. This exciting event will be held from 30 October – 5 November 2023 at the Hong Kong Convention and Exhibition Centre.
For the past 7 years, Hong Kong FinTech Week has been shaping the industry and
providing insights into the FinTech market. Expecting 30,000 attendees, more than 500 global speakers, and over 700 exhibitors from scaleups, international and mainland delegations, to partners, HKFTW is the perfect opportunity to broaden your network and an essential destination for anyone interested in the future of finance and technology.
This year's theme, FinTech Redefined., will have a strong focus on policy and regulatory innovation, the transition from web2 to web3, AI, and leveraging technology for inclusion, ESG, and Green Finance.
HKRFP is one of the supporting organizations for the event this year. We are now pleased to provide our members with the 15% discount code for purchasing Hong Kong FinTech Week tickets. Feel free to share the code with your members and enjoy the offer!
CODE: SRFR-DISCOUNT
Join us today: https://bit.ly/3bK0Lfq
@whub.io #AngelHub #FintechHK #InvestHK
#Fintech #HongKong #HK #FSTB #WHub #HKFinTechWeek #HKFTW #HKFTW23
#Innovation #Technology #AI #Web3