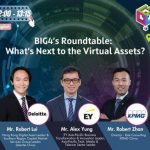 Hong Kong's virtual asset market has experienced significant growth in recent years, propelled by advancements in technology and shifting consumer preferences. As the demand for virtual assets continues to rise, businesses face both exciting opportunities and potential challenges.
Join us at the BUSINESS GOVirtual Tech Conference 2023 to explore what's next to the virtual assets in Hong Kong and learn how to grasp opportunities in this dynamic industry!
The GOStrategic Forum at #BGOV2023 will feature an insightful roundtable session with leaders from The Big Four accounting firms: Deloitte China, EY, KPMG China, and PwC Mainland China and Hong Kong The discussion will be moderated by our distinguished Show Advisor – Mr. Peter Koo.
These experts will gather together at #BGOV2023 for a high-quality exchange of ideas, providing an in-depth exploration of the virtual assets landscape in Hong Kong that you won't want to miss.
📅 7.12 | 12:00 – 13:15
Forum: Plenary – GOStrategic Forum
Topic: "BIG4's Roundtable: What's Next to the Virtual Assets?"
Moderator:
Mr. Peter Koo, Convenor, Fintech The Specialist Group, Hong Kong Computer Society (HKCS)
Panelists:
Mr. Robert Lui, Hong Kong Digital Asset Leader & Southern Region Capital Market Services Group Leader, Deloitte China
Mr. Alex Yung, EY Asia-Pacific Business Transformation & Innovation Leader, Asia-Pacific Tech, Media & Telecom Sector Leader
Mr. Robert Zhan, Director – Risk Consulting, KPMG China
Mr. Duncan Fitzgerald, Financial Services Risk Controls and Governance Leader and Digital Assets / Web3 Co-leader, PwC Hong Kong
🔝 Discover more showcases of related technologies at BUSINESS GOVirtual!
Please register now: bit.ly/46rWk0s
Date: July 12-14, 2023 (Wed – Fri)
Location: Hong Kong Convention and Exhibition Centre Hall 3FG
Fee: Free
BUSINESS GOVirtual Expo and Conference 2023 will take place from July 12- 14, 2023, bringing you a spectacular business event with:
✨ 130+ solution showcases
✨ 160+ industry leaders sharing insights
✨ 100+ conference forums
✨ C-Level Networking activities
✨ A brand-new immersive guided tour experience
BGOV Conference is in collaboration with 12 major industry associations, will host over a HUNDRED exciting forums covering various fields and topics, discussing the latest market trends, and sharing innovative technology insights. The Society of Registered Financial Planners (HKRFP) is thrilled to be the supporting organization of the Expo and Conference.
Get your E-Badge Now! https://bit.ly/AS002
Conference Agenda: https://lnkd.in/gmbFKUPb
#BUSINESSGOVirtual #TechConference #GreaterBayArea #HongKong #大灣區 #數碼經濟 #Web3 #Fintech #Virtualassets #BusinessCommunication #BusinessSolutions #HKRFP