3rd Hong Kong Financial Planner of The Year Award
第三屆香港財務策劃師選舉
PRIZES ADDED TO CATER FOR PROFESSIONS IN CHINA
NUMBER OF PARTICIPANTS DOUBLED FURTHER ELEVATE PROFESSIONALISM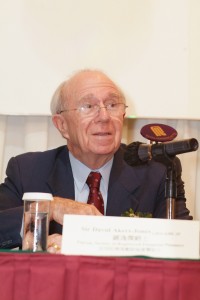 Sir David Akers-Jones
GBM KBE JP
Patron of HKRFP
Enter the third consecutive year, Society of Registered Financial Planners continued to organize an annual Award to honour and recognize the professionalism and dedication of financial planners. We hoped that our yearly Award can further increase the awareness of the profession at large.
The Award Presentation Ceremony and Dinner held successfully at Regal Hong Kong Hotel, 88 Yee Wo Street, Causeway Bay, Hong Kong on October 13, 2005. Distinguished guests including Sir David Akers-Jones GBM KBE JP, Mr. Stephen Po – Senior Director, Intermediaries and Investment Products Division of Securities and Futures Commission, and Ms. Lorraine Lam – Executive Vice President and Head of Retail Banking Group of CITIC Ka Wah Bank.
Sir David Akers-Jones, Patron of HKRFP, commented, "The number of participants surged this year, and the activity has received sponsorship and support from nearly 20 organizations and institutions. These prove that the Award has been widely recognized among the community. Financial planning is an important industry for the future of Hong Kong and will strengthen Hong Kong's position as an international financial hub. This year, the contest is extended to China, which should help the financial planning service to develop in the Mainland and raise the public's concern on this emerging industry."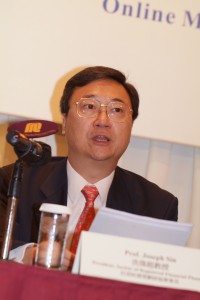 Prof. Joseph W.C. SIN
President of HKRFP
"Marking its third anniversary, the "Hong Kong Financial Planner of the Year Award" aims to raise the professionalism of the industry and promote the importance of professional financial planning services. We are pleased to see that there are three breakthroughs this year. First, the total number of participants has doubled last year's. Second, we have set up the China Group. Third, we have seen for the first time the participation of foreigners. All these clearly reflect that the Award is receiving more and more support from people of different countries and cultural background."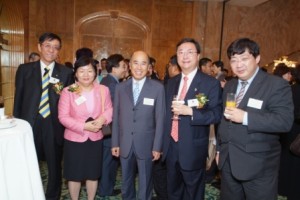 Ms. Mandy TAM
Legislator representing the Accounting industry (Left Two)
Prof. Simon S. M. Ho
Dean of School of Business, Hong Kong Baptist University(Right One) Ms Mandy Tam, Legislator representing the Accounting industry, echoed the view as well, "According to statistics from the Hong Kong Government, the number of professionals from financing, insurance, real estate and the business service sector will significantly increase to nearly 740,000, representing 19.1% of the total working population by year 2010. This suggests that the rapid development and importance of the financial industry should not be understated."
To compete for the Award, candidates have to submit a real-life anonymous case study to the panel for assessment. "Instead of hard-selling financial products, most of the candidates are able to provide appropriate financial analysis and suggestions to their clients. This shows that they put their clients in the first place in order to be a professional financial planner," said one of the panel judges, Prof. Simon S. M. Ho, Dean of School of Business, Hong Kong Baptist University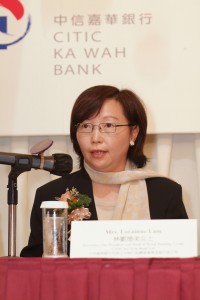 Mrs. Lorainne Lam
Bank's Executive Vice President & Head of Retail Banking Group
CITIC Ka Wah Bank Limited CITIC Ka Wah Bank Ltd, the Sponsor of the Award, also believes that the financial planning sector will be growing rapidly in Hong Kong. Mrs. Lorainne Lam, the Bank's Executive Vice President & Head of Retail Banking Group, said, "As our society becomes more affluent, demand for professional financial planning services is bound to increase. At different life stages, people have different needs and abilities in financial management. The emergence of professional financial planners or service providers will help people to achieve a better quality of life through tailor-made financial advice."
Winner List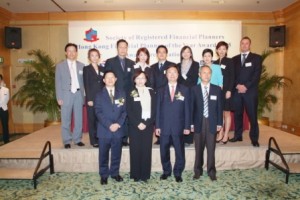 Hong Kong Group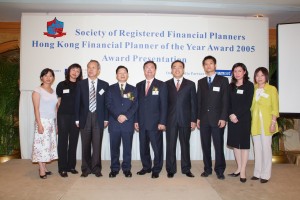 China Group
Hong Kong Group
Gold Award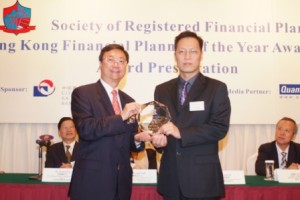 Mr. Tong Yau Keung Edmund
Pacific Century Company Limited
Gold Award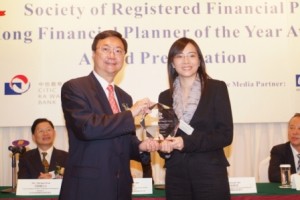 Ms. Wong Suk Han Rita
Insu-value Insurance Consultants Limited
Siler Award and Outstanding Presentation Award


Ms. Lau Hiu Kwan Maggie
General International Agency Limited
Bronze Award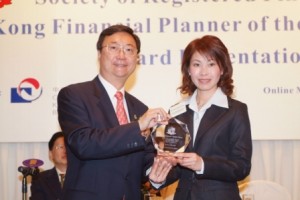 Ms. Cho Kin Sheung Kennis
CITIC Ka Wan Bank Limited
"Certificate of Merit"
* Certificate of Merti award winners were listed in alphabetical order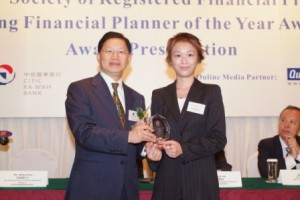 Ms. Chan Po Kay Jessica
Global Best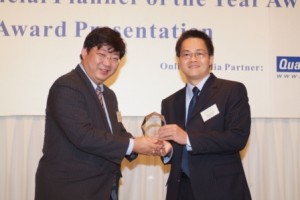 Mr. Hung Man Yuk
GlMidland Wealth Management Ltd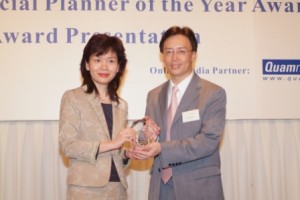 Mr. Lai Tin Yam
AIA Co (Bermuda) Ltd
Mr. Leung Siu Hung Joel
The Prudential Assurance Co Ltd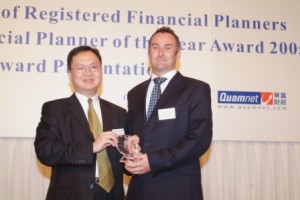 Mr. Gary J. Pinder
lNG Financial Planning Limited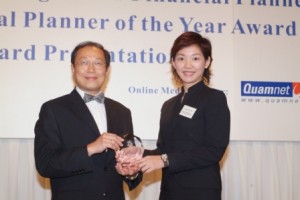 Ms. Wan Ka Yee Kitty
lNG Financial Planning Limited
China Group
Gold Award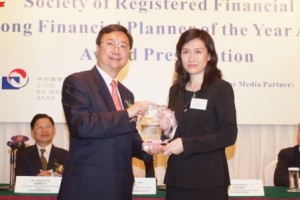 Ms. Xiao Hiuyu (蕭曉宇)
美國友邦保險有限公司廣州分公司
Silver Award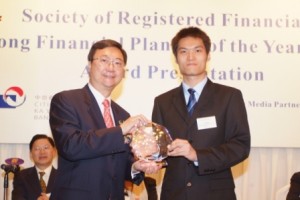 Mr. Li Haining (李凱寧)
安聯大眾人壽保險有限公司
廣州分公司
Bronze Award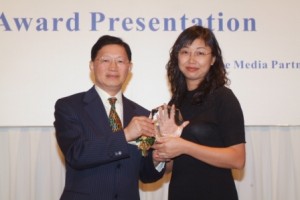 Ms. Zhou Xianghong (周向紅)
美國銀行(亞洲)有限公司
廣州代表處
"Certificate of Merit"
* Certificate of Merti award winners were listed in alphabetical order

Ms. Liu Xiqun (劉惜群)
廣東港興混凝土有限公司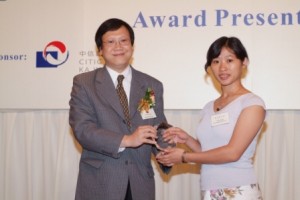 Ms. Mo Yuelin (莫月連)
廣州市越堡水泥有限公司

Sponsor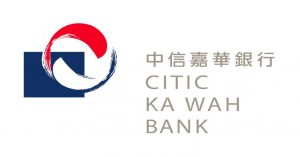 Online Media Partner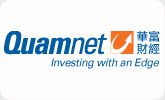 Quamnet.com
Panel List (In alphabetical order)
Name Title
Mr. Gary W.K. Cheung Chief Executive, Hong Kong Securities Institute
Mr. Andrew Y.M. Chow Vice President, The Insurance Institute of Hong Kong Limited
Prof. Simon S.M. Ho Dean, School of Business, Hong Kong Baptist University
Mrs. Ivy Lai Head, Investor Education & Communications, Securities and Futures Commission
Mr. Andy S.W. Lam JP Chairman, Hong Kong Accounting Professional Association
Mr. Vincent K.L. Li General Manger, Enterprise Enhancement Services Division, Hong Kong Productivity Council
Prof. Joseph W.C. Sin President, Society of Registered Financial Planners
Dr. Anthony C.W. Tam Head, Department of Business Administration, Institute of Vocational Education (Chai Wan)
Dr. Clement Yuk-pang Wong Director of Undergraduate Studies, Department of Economics & Finance, Faculty of Business,City University of Hong Kong
Mr. Joseph Y.K. Yau Immediate Past President, Certified Management Accountants Society of British Columbia, Canada (Hong Kong Branch)
Supporting Organizations / Associations (In alphabetical order)
Certified Management Accountants Society of British Columbia, Canada (Hong Kong Branch) School of Business, Hong Kong Baptist University
Hong Kong Accounting Professionals Association The Hong Kong Institute of Directors
Hong Kong Productivity Council The Hong Kong Management Association
Hong Kong Securities Institute The Institute of Crisis and Risk Managment
Institute of Financial Accountants in Hong Kong The Institute of Securities Dealers Limited
Lions Clubs International District 303 H.K. & Macau, China The Insurance Institute of Hong Kong Limited
Rotary International District 3450 (Hong Kong, Macau & Mongolia) The Society of Chinese Accountants and Auditors